With the newest U.S. Mint update today, Gold & Silver Eagles sales continue to be quite strong as investors take advantage of lower premiums.  Since the end of last week, the U.S. Mint has sold another 668,000 Silver Eagles.  Already, Silver and Gold Eagle sales surpass the total last year by a wide margin.
Once the U.S. Mint was finally able to bring on its newly designed Gold and Silver Eagles, investor demand continues to be elevated.  In the first two weeks of August, the U.S. Mint has sold 2,259,000 Silver Eagles and 78,500 oz of Gold Eagles.  So far this year, the U.S. Mint Silver Eagle sales are 21.2 million compared to 18.1 million in the same period last year.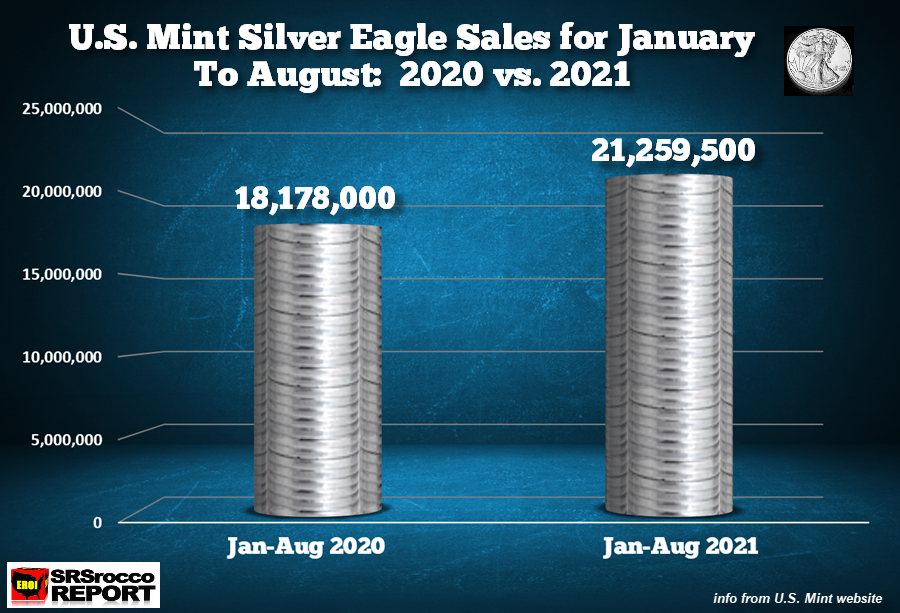 Also, the 18,178,000 Silver Eagles sold for Jan-Aug 2020 was for the entire month and last year.  Furthermore, the U.S. Mint sold 4,4770,000 in August 2020 when it finally got a decent supply of Silver Blanks.  If the U.S. Mint sells another 1.5-2 million Silver Eagles in the second half of August, total sales will be over 23 million.
Now, Gold Eagle sales are actually stronger than Silver Eagle sales.  Total Gold Eagle sales this year are 790,000 oz versus 615,500 oz during the same period last year.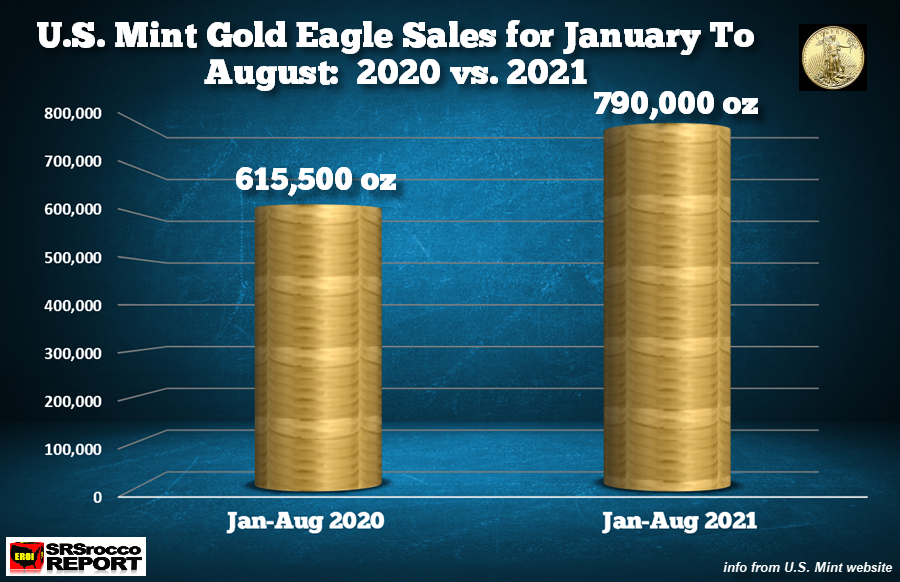 With total Gold Eagle sales of 844,000 oz last year, the U.S. Mint is on track to surpass 1 million this year.  It has been a decade since the U.S. Mint sold 1 million oz of Gold Eagles.  What happens when Americans really start to wake up and demand surges to 2-4 times this amount?  It's not a matter of IF; it's a matter of WHEN.
Precious Metals Premiums Are Falling, But Are You Paying Too Much?
I corresponded with Dan at Cloud Hard Assets today, and he shared the silver and gold product premiums.  When I went to the other Major Online Dealers websites to check their prices… I was quite surprised that the Cloud Hard Asset premiums were lower than most.  Matter-A-Fact, Cloud Hard Assets is providing the LOWEST PREMIUMS on the new 2021 Silver Eagles.
I didn't have time to make a chart, but I will show the leading Four Online Dealers TYPE #2 2021 Silver Eagle prices (premiums) based on buying 99 or fewer coins at the current silver spot price of $23.92.
New 2021 Silver Eagles
SD Bullion = $33.32 (+$9.40)
JM Bullion = $34.06 (+$10.14)
Money Metals = $33.41 (+$9.49)
APMEX Inc.= $35.48 (+11.49)
Cloud Hard Assets  = $31.77 (+$7.85)
I was quite surprised to see how low Cloud Hard Assets premiums on the new Silver Eagles were compared to the leading competitors.  I challenge anyone to check these prices.  Also, I thought you would all like to know what Cloud Hard Assets is selling the 2021 Silver Maples (99 or fewer coins) compared to the same leading dealers:
New 2021 Silver Maples
Money Metals = $28.91 (+$4.99)
SD Bullion = $29.11 (+$5.19)
JM Bullion = $30.01 (+$6.09)
APMEX Inc.= $30.38 (+$6.40)
Cloud Hard Assets  = $28.17 (+$4.25)
I tried to look up Miles Franklin for their prices, as it seems they have brought in a group of folks to sponsor them, but when you go to their website, all you get is CALL FOR PRICES.  So, if anyone here buys from Miles Franklin, maybe you can let us know what they are charging for Silver Eagles & Maples in the comment section.  It would be interesting to see.
Lastly, I sponsor Cloud Hard Assets on my website, because I REFUSED many offers in the past for several years and went with Tom Cloud due to his honesty, and some of the lowest prices in the market.  I also store some of my metal at the IDS Texas Depository (smart to diversify) and only pay 30 BASIS POINTS a year for FULLY ALLOCATED STORAGE.  I challenge anyone to see if they can match that price.
While I only like to bring up Cloud Hard Assets once in a while because I'd rather focus on the ANALYSIS & REPORTING, when I see how much lower the premiums are, I feel it's only fair to share that will subscribers and members.
I really like Tom and Dan at Cloud Hard Assets.  They are very easy and laid back to talk to and will answer any questions.  Also, Tom Cloud puts all his client's funds in an escrow account until the metal is shipped.  This is extra security protection not offered by many other precious metals dealers.
If you want to contact Cloud Hard Assets, you can click here: CLOUD HARD ASSETS.  Call at (800) 247-2812.
DISCLAIMER: SRSrocco Report provides intelligent, well-researched information to those with interest in the economy and investing. Neither SRSrocco Report nor any of its owners, officers, directors, employees, subsidiaries, affiliates, licensors, service and content providers, producers or agents provide financial advisement services. Neither do we work miracles. We provide our content and opinions to readers only so that they may make informed investment decisions. Under no circumstances should you interpret opinions which SRSrocco Report or Steve St. Angelo offers on this or any other website as financial advice.
Check back for new articles and updates at the SRSrocco Report.  You can also follow us on Twitter and Youtube below: