The SRSrocco Report will be transitioning to a subscription service on August 21st.  We will continue to publish free public articles, but approximately 80% of the content on the main page will be accessed by subscribers who select one of the membership plans.   I would imagine not all followers may think this is a positive move, we believe it is because we will be offering more posts, articles, and videos than before.
Honestly, I have been debating transitioning the website to a subscription service for several years.  Moreover, many followers have contacted me, suggesting that I should be offering this type of service.  After spending seven years providing free public access to articles, analysis, and videos, I decided it was time for several reasons.
I will get to that in a minute, but I first wanted to share what some of the changes will look like on the website.  Individuals who select the Silver Membership Plan will be able to access all the exclusive content on the Main Page.  A "Silver Member" button will display these Silver Membership posts after the title of the article.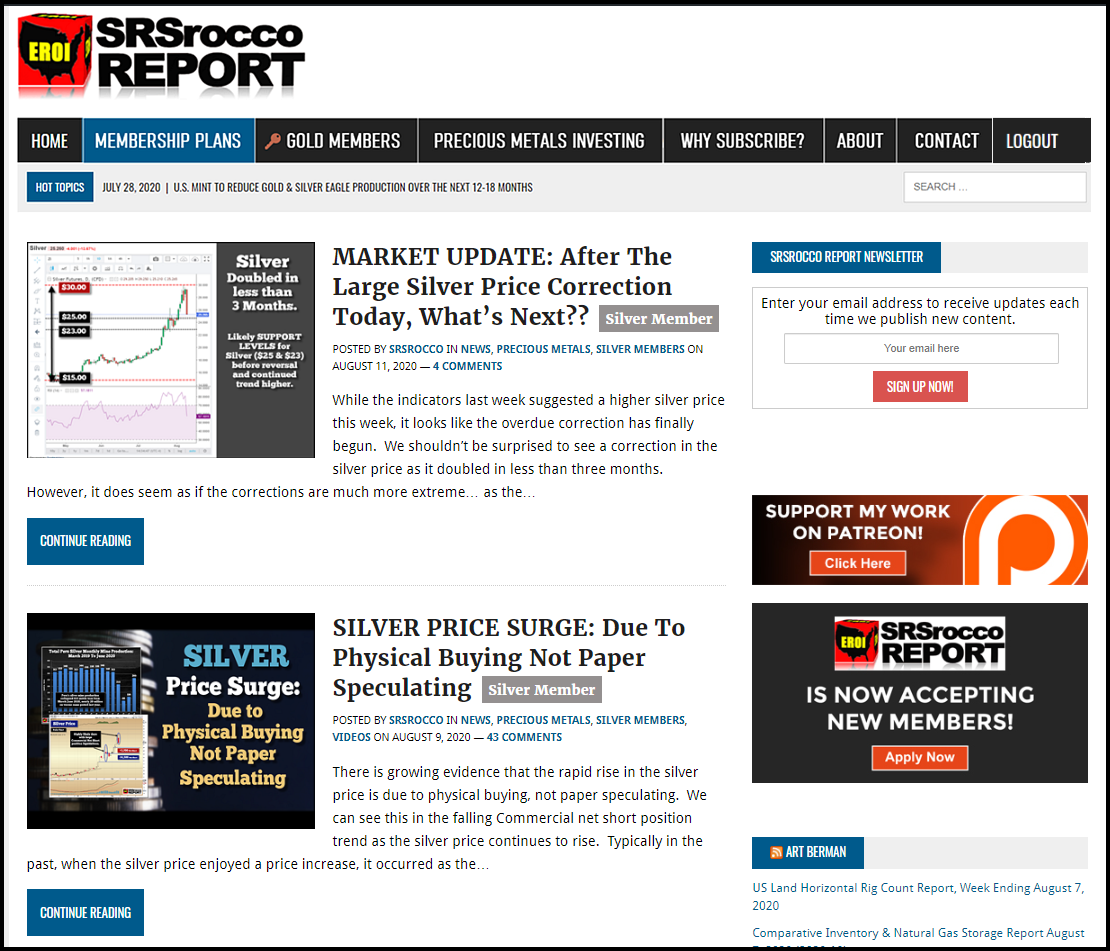 Thus, individuals who select the Silver Membership will have access to these Silver Member posts.  If a post does not have any Membership button, then it is open and available to everyone.  We plan on publishing between 3-5 Silver Member posts a week.  Sometimes, the number could be higher, and then some weeks, a bit less.
We realize that it is essential to continue providing valuable information to the public, so there will be 1-2 free articles posted every week.
For individuals who would enjoy more in-depth analysis, information, and material, we are now offering a Gold Membership Plan.  Gold Members will have access to all the Silver Member posts on the main page, including an exclusive Gold Members Area.  This Gold Members Area will look similar to the front page, but there are many more categories that will archive all the content by just an easy click of the mouse.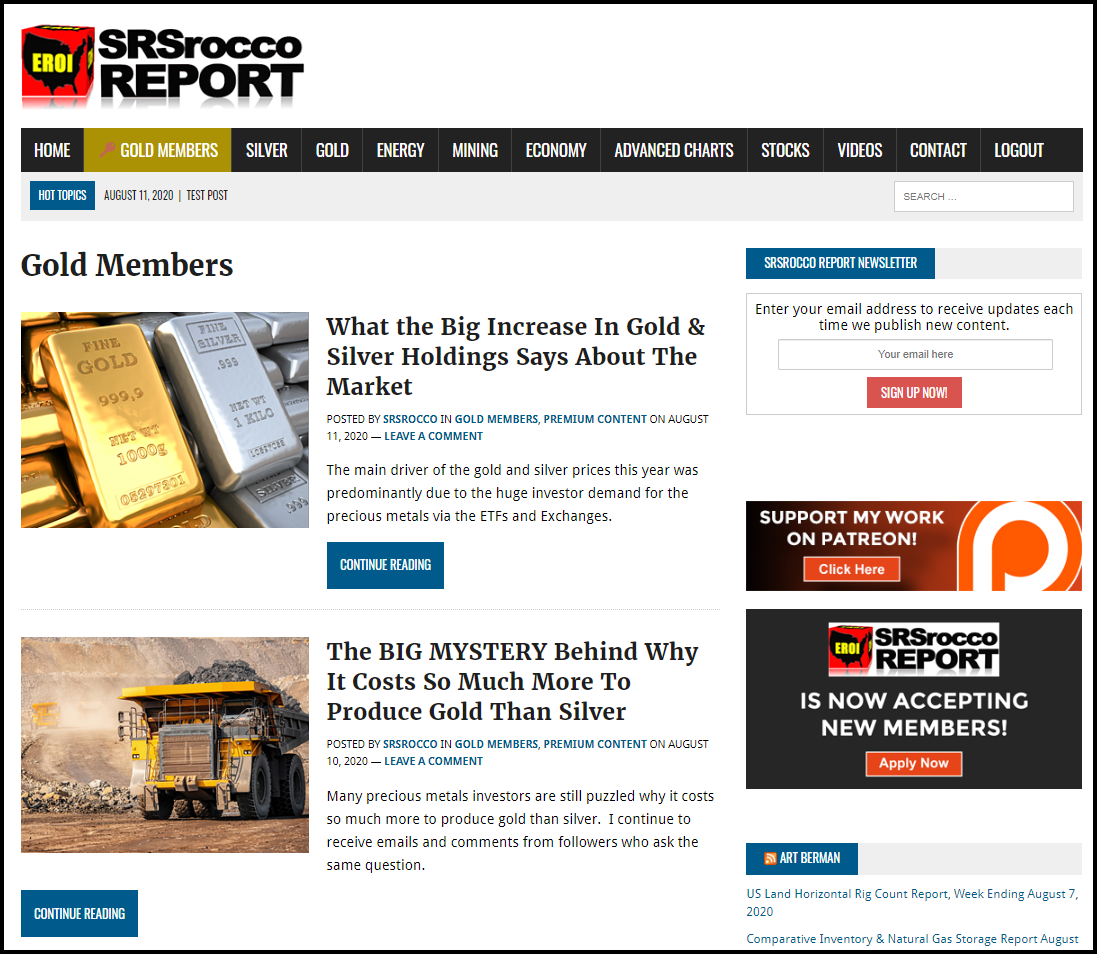 Just like with the main page, all new Gold Member posts-articles will be at the top of the page.  However, if you wanted to focus on a specific category like "MINING," then all articles and videos about mining would only be found under that TAB.  For those members also interested in energy, all the energy articles and videos would be found in the "ENERGY" tab.
We are also going to provide Gold Members with new analysis on Gold-Silver-Resource Stocks and Advanced Charting.  I have been asked for years by followers to offer analysis on companies and stocks.  While I will be providing "My Type Of Analysis" on companies and stocks, I am not going down the road of being a "Stock Picker."  There are plenty of resource stock newsletters on the internet that focuses on this business model.  Unfortunately, most of them I wouldn't recommend.
Additionally, we will provide Advanced Charting in all categories; Silver, Gold, Commodities, Stocks, Energy, Indexes, etc.  Most of the Advanced Charting will be on individual stocks and their trends, but we will also produce advanced analysis on short and longer-term trends for the Metals, Commodities, Energy, and the major Indexes.
There will be approximately 2-3 Gold Member posts-articles per week.  While some of these will be published on the main page, displayed by a "Gold Member" button, the majority will be found on the Gold Members Area shown above.  So, we will encourage Gold Members to click on the Gold Members Tab on the main page to access new content published in this area.
The Benefits Of Becoming A SRSrocco Report Member
While a portion of followers may not decide to become a paying member, we believe those that do will continue to access information and analysis not found anywhere else on the internet.  Sure, some websites are covering certain subjects also analyzed here at the SRSrocco Report, but we try to provide a more comprehensive and detailed analysis.
For example, there aren't any websites that I can think of that are providing up to date analysis on the Primary Silver Mining Industry's average yield.  This is just one example, which brings me to one of the reasons why we decided to transition to a subscription service.
It takes a great deal of time and effort to do the research, charts, and to write original analysis that is now republished for free on websites all over the internet.  While some sites gained permission to republish my work, many have not.  And, many of the websites that asked permission to republish don't even provide links back to the original article or author's website.  This is extremely disingenuous.
Why, because the website that republishes articles, receives the overwhelming majority of the benefit while the original author-analyst receives very little if any benefit.
Here's a perfect example.  After contacting my Patreon members about the coming changes to the SRSrocco Report, one member decided to cancel and not upgrade to either membership level.  When a member cancels, they can leave a comment as an"Exit Survey" on Patreon.  This member stated that "Why should I pay for articles if I can find them free on other websites?"
Another reason why we decided to move to a subscription service was to provide more high-quality content for members.  Because it takes a lot of time to put out original material, we would like to focus the work for those who directly support it.  By receiving increased support from members, I can focus more of my time and effort by publishing additional content on a consistent basis.
So, with that in mind, the SRSrocco Report will continue to put out content for the public but will focus on the higher-quality original material for individuals who find a benefit as paying members.
IMPORTANT NOTICE:  To Existing Paypal & Patreon Supporters
First, I want to thank all the individuals who supported the public work on the SRSrocco Report.
With the SRSrocco Report transitioning to a subscription service, I have contacted each existing PayPal and Patreon member by email or message.  You should have received this information.  If not, please check your email address or message area on Patreon.
VERY IMPORTANT:  Secondly, we will be canceling all PayPal automatic renewal memberships that have been donating to the SRSrocco Report by tomorrow.  We will no longer be using Paypal as a payment processing system.  Also, current SRSrocco Report Patreon members who are supporting via donations at lower-tier levels, if you would like to access the paid content, please consider upgrading to one of the membership levels.  If not, then we suggest you cancel your donation membership.
The SRSrocco Report will be using Patreon's payment system exclusively because they offer certain positive services not offered by PayPal presently.
The most important reason we selected Patreon has to do with the new law requiring individuals-companies who provide digital subscriptions or services to start collecting and paying VAT-GST-SALES taxes to the appropriate state or country in which the payment was made.  Patreon collects this VAT-GST-SALES tax from its Patreon Members and sends it to the corresponding country or state.
While many states and some countries are currently offering higher "Threshold" sales levels, so many do not have to pay any tax, I see them all lowering it to zero over the next few years (example: members in the European Union) as countries and states will need all the revenue they can get their hands on.
Unfortunately, many websites and newsletters that are charging members subscription fees but are not yet collecting the appropriate taxes, will need to start doing so in the future.
Become a Patreon Member To Subscribe To The SRSrocco Report
To be able to access the paid content on the SRSrocco Report, you must first become a Patreon Member.  The process is straightforward.  If you aren't a member and you see this screenshot, then you would need to become a Gold Member to access this content, as this is a Gold Member post.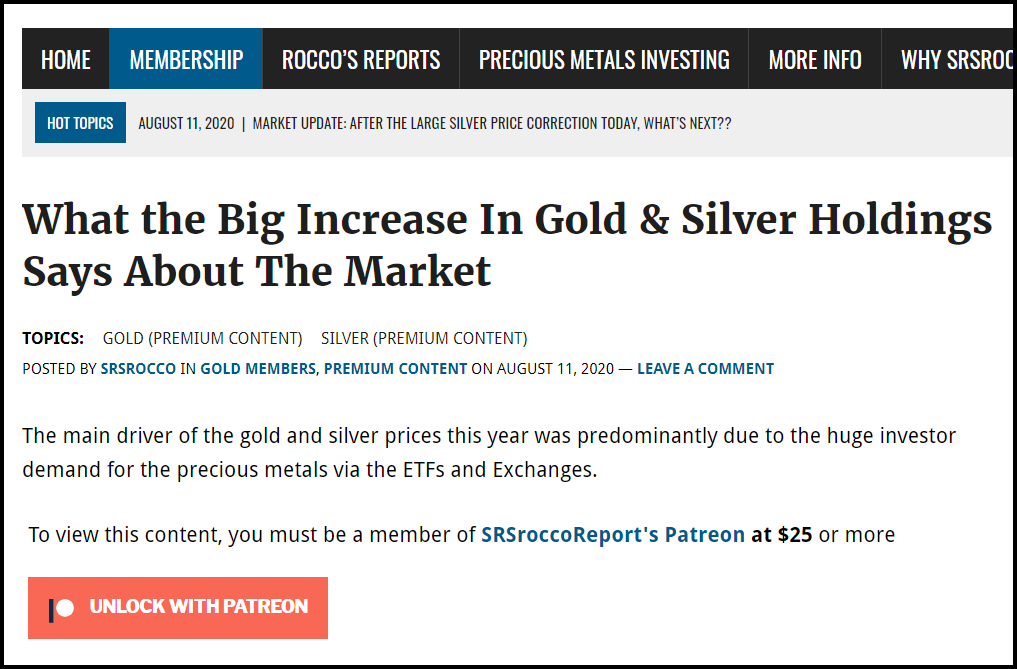 IMPORTANT NOTE:  There will be no SRSrocco Report content published on Patreon.  It will remain exclusively on the SRSrocco Report.  We are only using Patreon as a subscription payment system.  Once you become one of the SRSrocco Report Patreon Members, you will easily be able to access the new post-article.
There will be a "MEMBERSHIP PLAN" Tab on the top of the website on August 21st when we switch over to the subscription service, with three plans offered.  When you select any of these plans, it will take you to my SRSrocco Report Patreon page showing the same Membership levels shown below: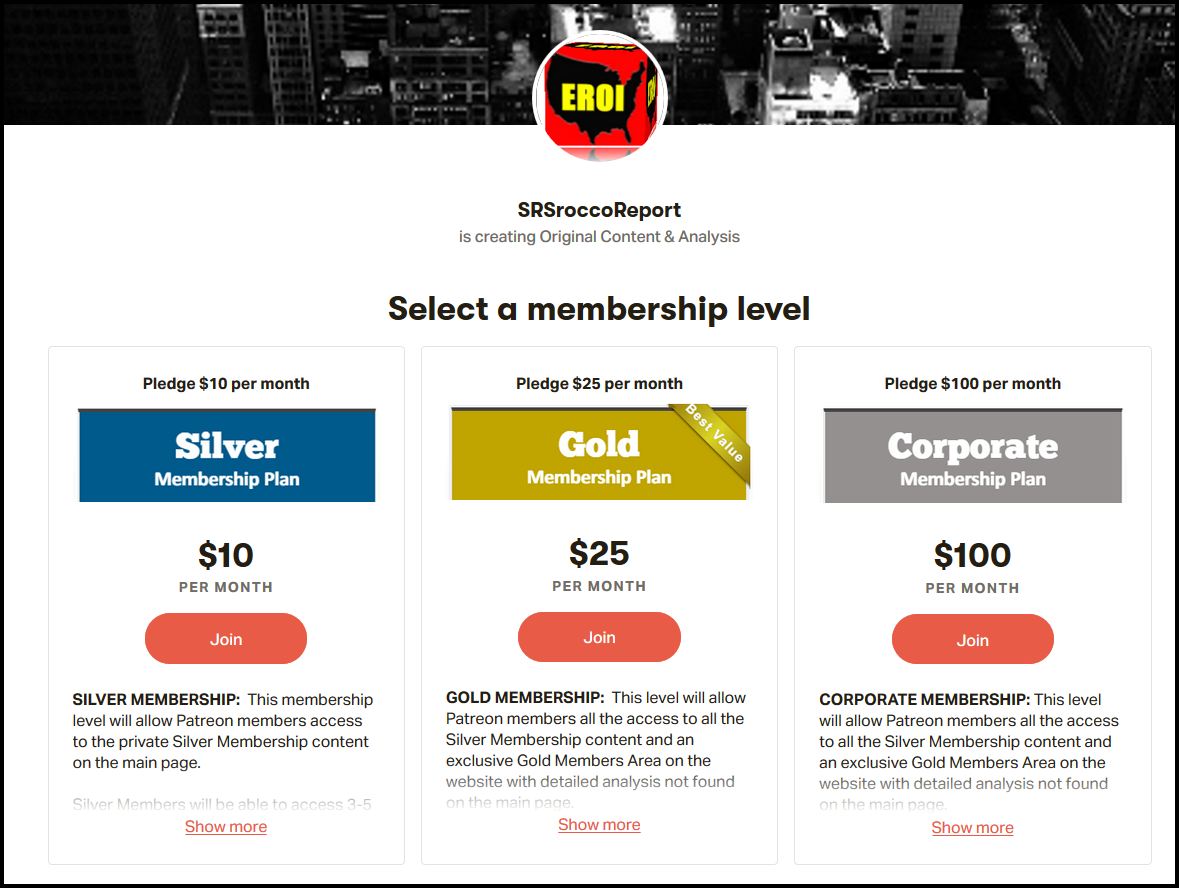 Once you become a member of one of these plans, when you return to the SRSrocco Report, you will then have access.  However, if you are already a member and you see the "UNLOCK WITH PATREON" button, just click on it and you will see this popup: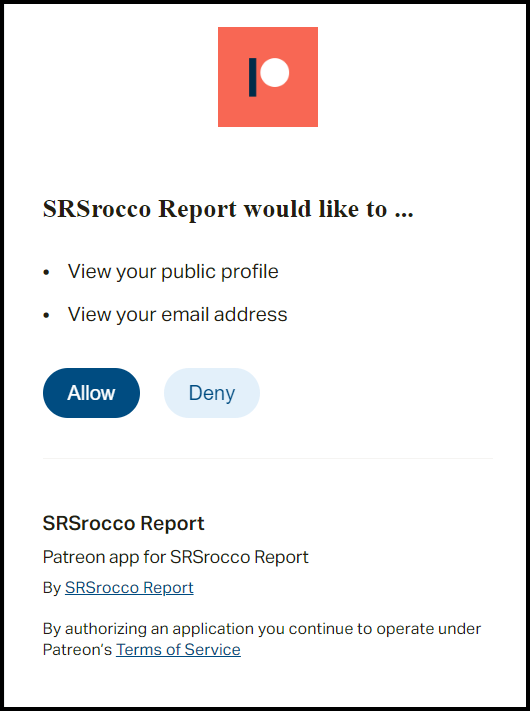 Click on the "Allow" button, and it will return you to the article page, providing you with open access to the content.  While an individual has to acquire a simple Patreon account to subscribe to one of the membership levels, the system is very simple and easy to use.
Some Final Thoughts…
I published my first article on the SRSrocco Report on May 13th, 2013.  I have to say; it's been a very interesting seven years.  Due to our analysis that "ENERGY: The Key Driver of the Economy" is going to get into serious trouble, we believe the next seven years are going to be completely different than the past seven.  That is why we plan on putting out original material to educate and prepare individuals for what lies ahead.
We look forward to providing members with quality information and analysis not found anywhere else on the internet.  If you would like to access this content, please consider joining one of the membership levels when we switch over on August 21st, 2020.
Best regards,
Steve St. Angelo
Brief information on the new membership levels, click here:  MEMBERSHIPS
DISCLAIMER: SRSrocco Report provides intelligent, well-researched information to those with interest in the economy and investing. Neither SRSrocco Report nor any of its owners, officers, directors, employees, subsidiaries, affiliates, licensors, service and content providers, producers or agents provide financial advisement services. Neither do we work miracles. We provide our content and opinions to readers only so that they may make informed investment decisions. Under no circumstances should you interpret opinions which SRSrocco Report or Steve St. Angelo offers on this or any other website as financial advice.
Check back for new articles and updates at the SRSrocco Report.  You can also follow us on Twitter and Youtube below: