As the global contagion continues to cause a great deal of uncertainty in the markets, I thought it was a good idea for precious metals dealer Tom Cloud to provide a new update.  Tom starts off the video saying that in his 44 years in the industry, he has never seen anything like the current situation in the precious metals markets.
Tom stated that one of his wealthier clients last week took money out of the banking system and purchased a large sum ($millions) of physical precious metals.  Unfortunately, there still are only a fraction of financial planners that advise their clients to own a percentage of physical gold and silver in their portfolio.  I believe investors should be increasing the typical 5-10% of precious metals in one's portfolio to at least 20-25%.
Tom also went on to say that some leading financial analysts are calling for a 30% drop in U.S. GDP by Q2 2020.  This is no longer a recessionary event.  Rather, we are heading into a Depression, the likes we haven't seen for nearly eight decades.  Very few Americans are prepared for what's coming.
With investment demand for physical precious metals at near-record levels, Gold and Silver Eagle premiums are some of the highest ever.  It is quite amazing to see Silver Eagles buy prices more than $10 over the spot price.  One large online dealer is selling its Silver Eagles for nearly $12 over spot.  Thus, Silver Eagle premiums are ranging between 50-80% over spot.
I also wanted to provide an update on the Gold & Silver Eagle BEST BUY prices.  I spoke to Tom yesterday for about a half-hour.  He told me that Silver Eagle premiums increased again, but CLOUD HARD ASSETS still has the lowest prices versus the top leading online dealers: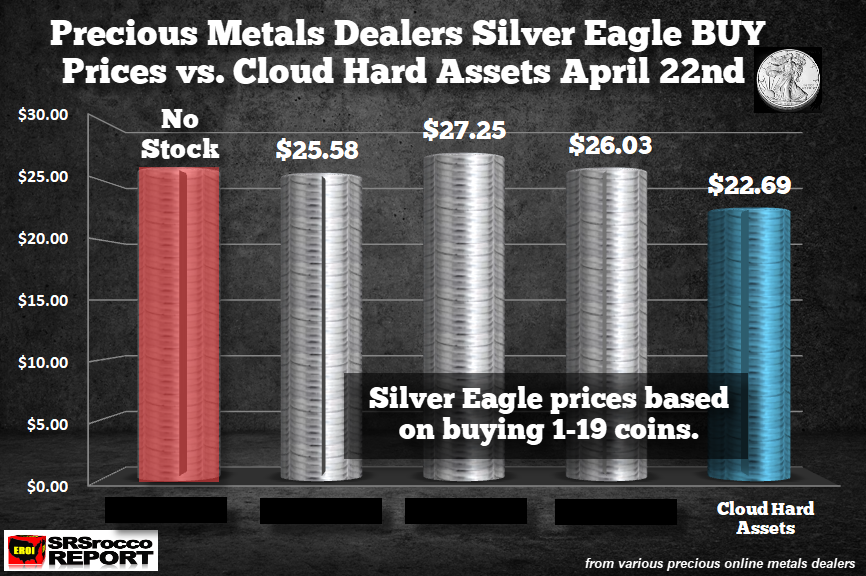 While one of the leading online precious metals dealers is charging nearly $12 OVER SPOT for Silver Eagles, CLOUD HARD ASSETS is only charging $7.50 over the silver spot price, or at $22.69 each based on $15.19 spot price.  Furthermore, Tom emailed me this morning with an update on 1 oz Gold Eagles which they are selling at 8.75% over spot.  So, if the gold spot price is trading at $1,720, CLOUD HARD ASSETS is selling Gold Eagles for $1,870, much lower than the larger online dealers: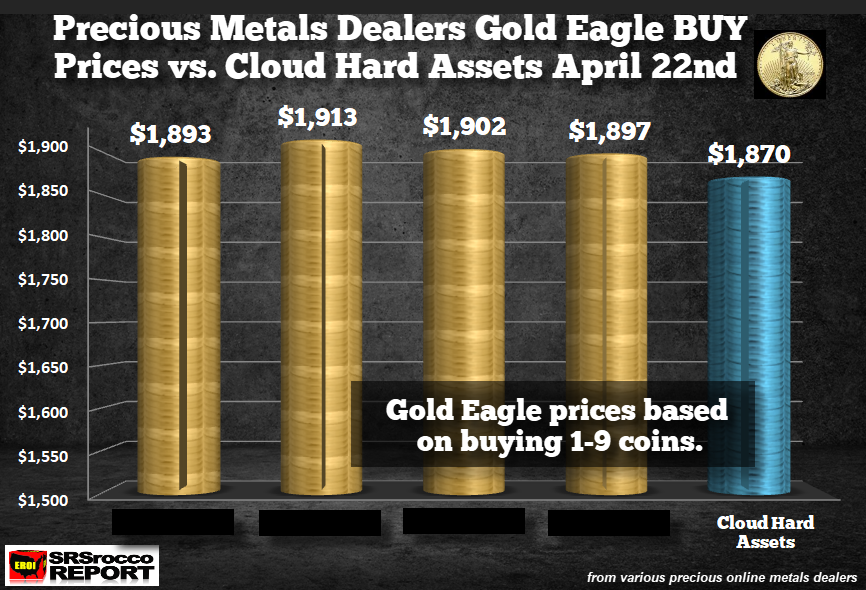 So, it's essential that you find the best possible prices when buying physical precious metals investment products.
Here are some other prices for bullion products also offered by CLOUD HARD ASSETS:
Silver Eagles ($7.50 over spot) – 2 week delivery time
Silver Misc Private 1 oz Rounds ($3.60 over spot)
Silver Misc Private 5 & 10 oz Bars ($3.60 over spot)
Silver Kilo Bars ($3.60 over spot)
Silver Misc. Kangaroos ($4.50 over spot)
Silver 1,000 oz Bars ($1.20 over spot)
Gold Eagles (8.75% over spot) – 2 week delivery time
Gold Buffalo (10.5% over spot)
Gold Philharmonic (8% over spot)
Gold Kangaroos (6.5% over spot)
Gold Kilo Bars (4.8% over spot)
You can contact Tom or Dan at CLOUD HARD ASSETS here:  PRECIOUS METALS INVESTING.
IMPORTANT NOTE:  There is a reason I sponsor Tom Cloud on my site because I believe he is one of the most honest and upfront precious metals dealers in the industry.  Not only does Tom offer some of the best rates to purchase gold and silver, but also whenever someone sells metals back to him, HE DOES NOT CHARGE A COMMISSION.  The overwhelming majority of precious metals dealers charge a commission to buy back gold and silver.
I challenge you to check for yourself.
Also, if you need to store metal at a secure facility, Tom offers some of the lowest storage rates in the industry.  TOM DOES NOT MAKE MONEY OFF HIS CLIENTS PRECIOUS METALS STORAGE.  The overwhelming majority of precious metals dealers add an additional percentage to store their clients gold and silver.
I challenge you to check for yourself.
Tom Cloud has been in the precious metals business for 46 years, since 1973.  He has a lot of experience in the precious metals industry and understands the gold and silver market better than most dealers in the industry.
If you are new to the precious metals market and had questions, Tom Cloud would be happy to answer any questions.
DISCLAIMER:  While Tom offers information about precious metals, you should not take this as investment advice.  You should contact a professional advisor and or do your due diligence before making investment decisions.  
If you are new to the SRSrocco Report, please consider subscribing to my:  SRSrocco Report Youtube Channel.
DISCLAIMER: SRSrocco Report provides intelligent, well-researched information to those with interest in the economy and investing. Neither SRSrocco Report nor any of its owners, officers, directors, employees, subsidiaries, affiliates, licensors, service and content providers, producers or agents provide financial advisement services. Neither do we work miracles. We provide our content and opinions to readers only so that they may make informed investment decisions. Under no circumstances should you interpret opinions which SRSrocco Report or Steve St. Angelo offers on this or any other website as financial advice.
Check back for new articles and updates at the SRSrocco Report.  You can also follow us on Twitter and Youtube below: