With the global economy now experiencing energy shortages throughout the world, it has caused demand for precious metals bullion to surge recently.  Sales of the U.S. Mint Gold Eagles in the first few days of October have nearly surpassed the total for September.  Total Gold Eagle sales this year will likely reach 1 million oz in the next week.  The last time the U.S. Mint sold 1 million oz of Gold Eagles was in 2011.
CHECK OUT:  I just recorded a Youtube Video on this subject, click on the link or at the bottom of the article: Energy Crisis Causes Surge In Gold Eagle Demand.
What a difference in the past month… Gold Eagle sales for October 5th are already 68,000 oz compared to only 20,000 oz for September 8th.  While the U.S. Mint sold 20,000 oz of Gold Eagles in the first eight days of September, it already sold 68,000 oz in the first five days of October.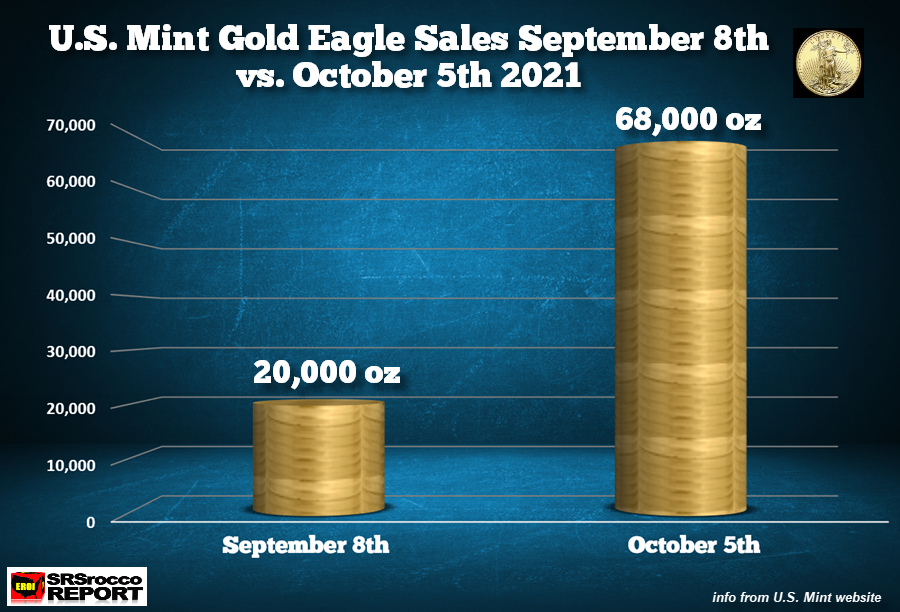 So, what took a full month of Gold Eagle sales in September to reach 75,000 oz, has already hit 68,000 oz in less than a week in October.
It seems as if investors are now extremely concerned about these "Global Energy Shortages" and how they will impact the economy and asset values.  As I have been talking about for many years, most STOCKS, BONDS & REAL ESTATE are not real stores of value, but rather, are ENERGY IOUs.  This is why we are seeing investors sell the British Bond, the Gilt, today.  And, this is just the beginning.  Global Bonds now valued at over $123 trillion, suggests that investors are most certainly… ON THE WRONG SIDE OF THE TRADE.
Indeed. Another factor not taken into consideration is that Bonds are basically ENERGY IOUs… right?

Burning energy in the future gives STOCKS & BONDS value. However, that falls apart during the #ENERGYCLIFF

Got physical #Gold & #Silver… which are STORES OF ENERGY VALUE. https://t.co/sTTMpCaxKl pic.twitter.com/YWdFYL1WZJ

— SRSrocco Report (@SRSroccoReport) October 5, 2021
As the world heads closer to and over the ENERGY CLIFF, there will be a great deal more price volatility and investor fear.  This is when it is important to be Holding Physical Gold & Silver.  What is happening with the weak Silver & Gold Prices currently were the same for "Investor Sentiment" of energy prices during the Pandemic Shutdowns last year.  You couldn't GIVE ENERGY AWAY for a reasonable price.  Now, the world has WOKE up to Energy Shortages, and prices are going insane.
I see the same situation taking place with the precious metals as more investors WAKE UP… that "ALL IS NOT RIGHT."  The Fed & central banks will become less able to deal with the massive Bond & Debt Bubble, and then it will all come crashing down.  That is why it is very important to own physical precious metals.
We just wanted to show how CLOUD HARD ASSETS, which we sponsor on the website, has some of the lowest prices and best service in the industry.   The prices below are from the TOP ONLINE DEALERS vs. Cloud Hard Assets.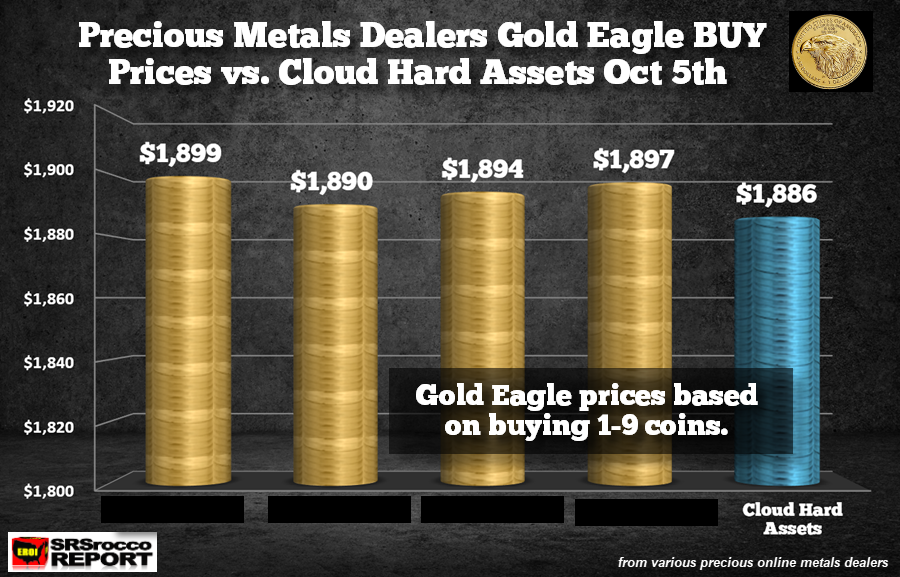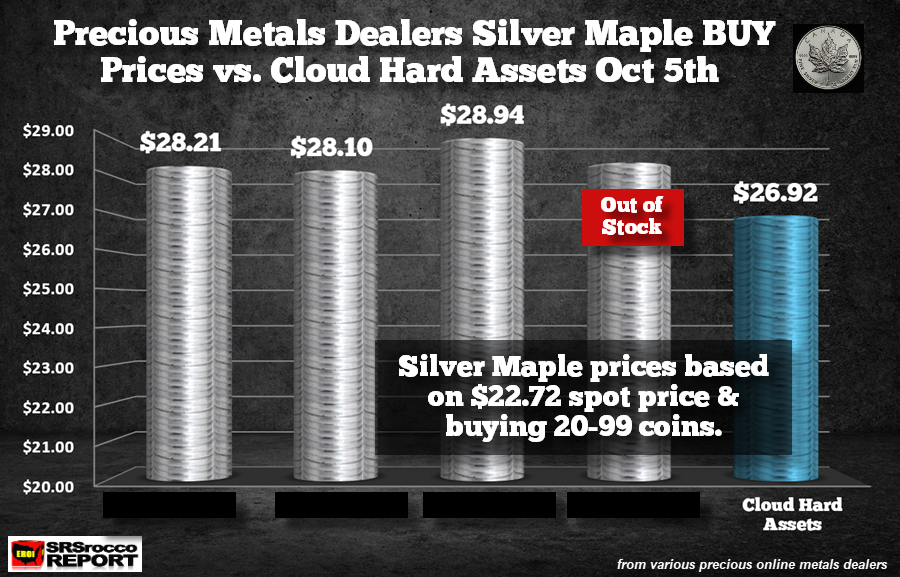 You can contact Tom, Dan, or Jade… Click here: CLOUD HARD ASSETS.  You can also call (800) 247-2812.
DISCLAIMER: SRSrocco Report provides intelligent, well-researched information to those with interest in the economy and investing. Neither SRSrocco Report nor any of its owners, officers, directors, employees, subsidiaries, affiliates, licensors, service and content providers, producers or agents provide financial advisement services. Neither do we work miracles. We provide our content and opinions to readers only so that they may make informed investment decisions. Under no circumstances should you interpret opinions which SRSrocco Report or Steve St. Angelo offers on this or any other website as financial advice.
Check back for new articles and updates at the SRSrocco Report.  You can also follow us on Twitter and Youtube below: