An interesting dynamic is taking place in the precious metals bullion market.  While the premiums for Gold Eagles have fallen back to near-normal levels since the global pandemic hit during mid-March, Silver Eagle premiums are still close to their highs.
According to GoldChartsRUs.com, using Monex's prices for Gold and Silver Eagles, the premium for the coins jumped in April due to the surge in bullion demand and the shutdown of the U.S. Mint.  However, as the world's largest gold refineries came back online and as the U.S. Mint was able to resume production, the premiums for Gold Eagles fell considerably at the end of June and beginning of July.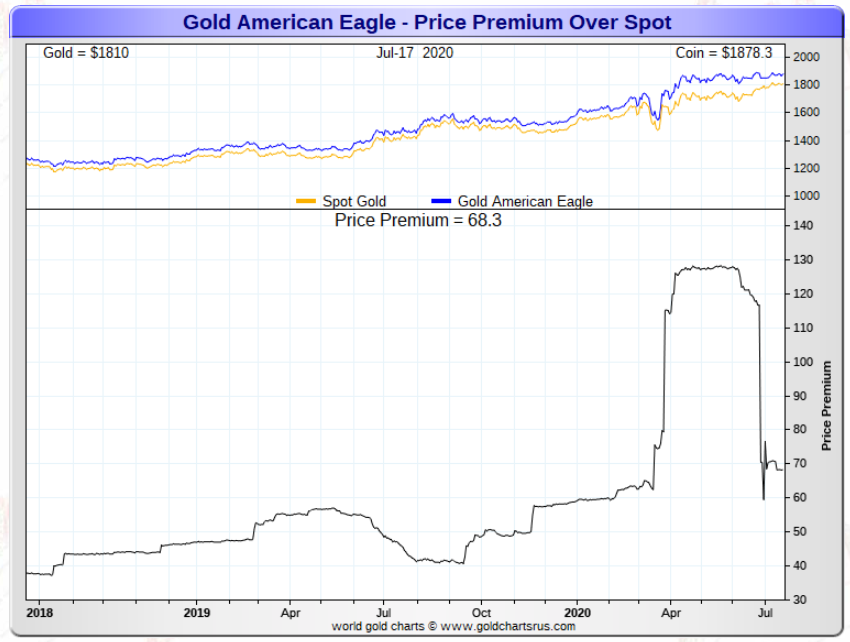 However, even though Silver Eagle premiums have come off their highs in April and May, they are still quite elevated: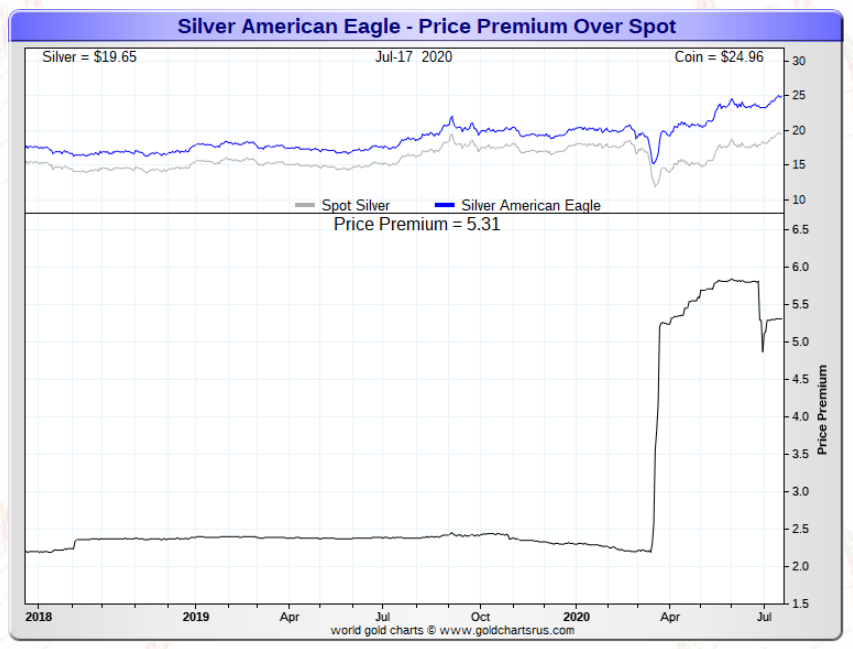 In using Monex's price data, the premium for Gold Eagles is 3.8%, while Silver Eagles are at a whopping 27%.  Now, here are a few interesting points about Monex's price data.  Monex provides very low premiums versus the typical leading online competitors.  However, there is a catch when dealing with Monex.  First, the premiums quoted are not for 2020 coins, even though one may receive that year.  Secondly, they try to get people to use their service that offers even cheaper premiums if you don't take delivery and store it at their facility.  This seems suspicious to me that they can offer such low premiums compared to the market.  So, buyer beware.
For example, I looked at the 2020 1 oz Gold Eagle premiums (based on buying 1-9 coins), and I found they ranged between 5.7%-6.6%, with a simple average at 6%.  So, you can see that the leading online dealers are charging about a 6% premium for 2020 1 oz Gold Eagles vs. 3.8% for Monex.  Moreover, when Monex's Gold Eagle premiums were much higher in April-May, so were the leading online dealers.
Regardless, Gold Eagle premiums have come off their highs while Silver Eagle premiums are still elevated.  If we look at the following chart, using Monex's price data from the charts above (approximations), Silver Eagle premiums are only $0.44 less than what they were from their peak.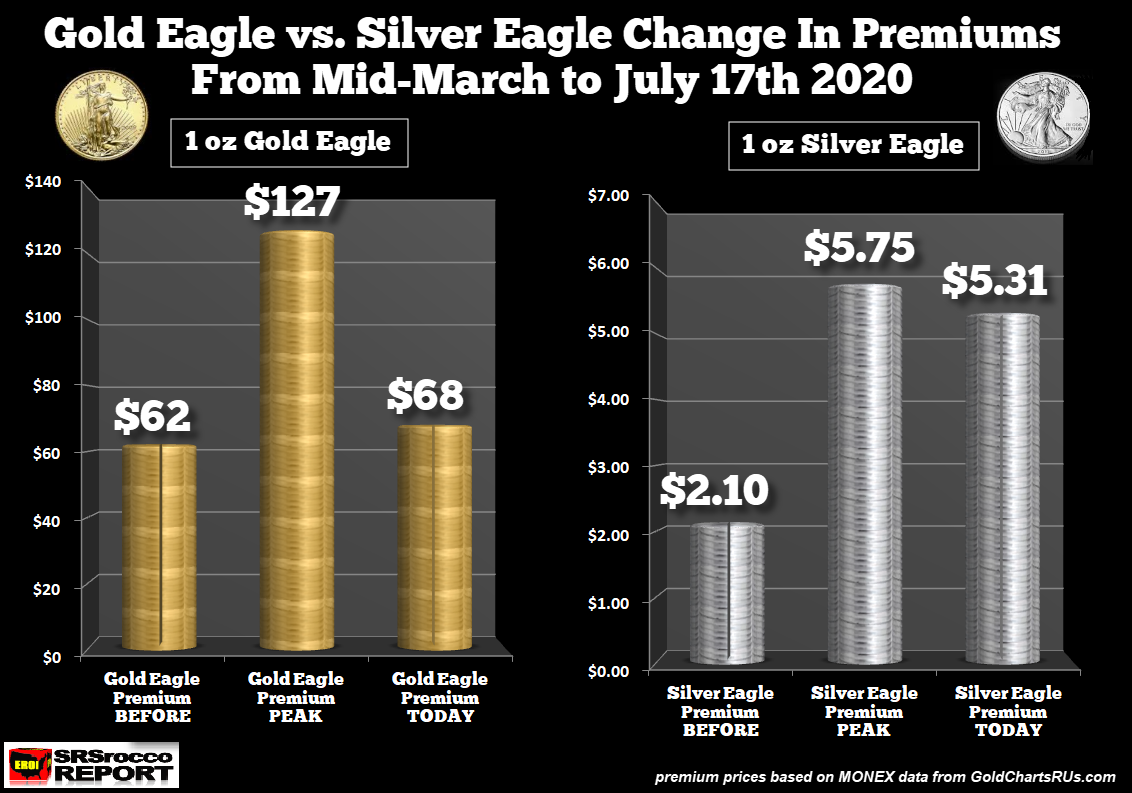 Monex's Silver Eagle premiums peaked at $5.75 and are now at $5.31.  So, we haven't yet seen Silver Eagle premiums return to their normal $2-$2.10 per coin.  Again, when Monex's Silver Eagle premium peaked at $5.75 per coin, the average leading online dealers were charging an average $10.97 over spot in mid-May.  I have set up a spreadsheet that shows the prices and premiums for the four leading online dealers versus CLOUD HARD ASSETS, which I sponsor on this website.
Here is a chart showing the 2020 Silver Eagle premiums for June, and including July 17th: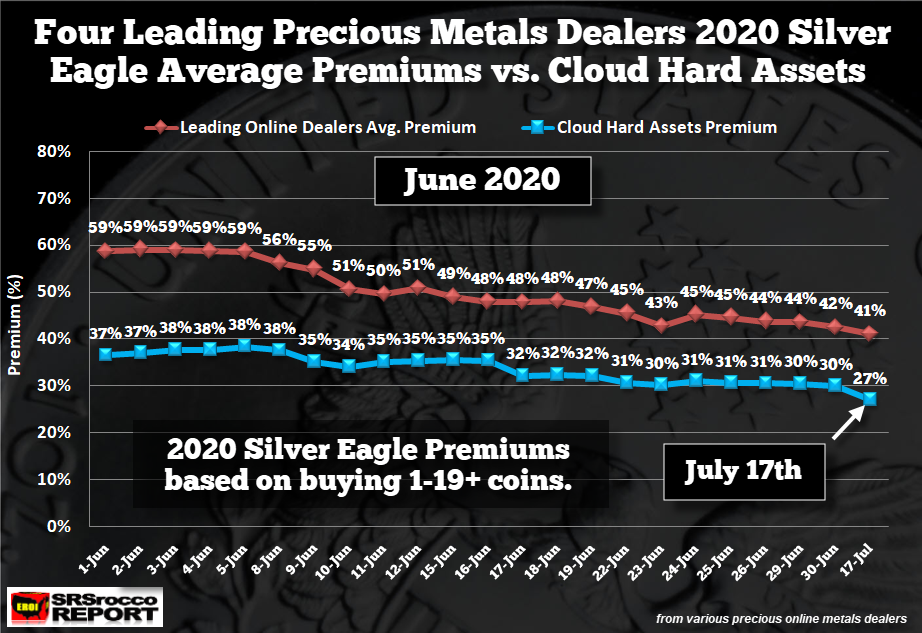 As you can see, the four leading online dealers' average 2020 Silver Eagle premium was 59% on June 1st or $10.81 per coin versus 37% premium offered by CLOUD HARD ASSETS or $6.70 per coin.  What a difference in premiums… eh?  Investors could have saved one heck of a lot of money if they SHOPPED AROUND.
Towards the end of June, the average 2020 Silver Eagle premium from the four leading online dealers fell to 42% on the 30th of the month versus 30% for CLOUD HARD ASSETS.  And, at the close on Friday, July 17th, the leading four online dealers' average 2020 premium fell to 41% ($8.03 per coin) versus 27% ($5.25 per coin) from CLOUD HARD ASSETS.  These prices are based on buying 1-19 coins.
Due to high demand and still limited supplies, the premiums on Silver Eagle coins remain elevated.  I contacted Dan at CLOUD HARD ASSETS this week, and he told me they continued to be very busy with 60% of sales in silver bullion and 40% in gold bullion.  These percentages are based on sales volume, not on troy ounces.
The South African Mint Sold A Lot Of Silver Krugerrands Since Mid-March
Since its initial release in 2017, investors have been able to acquire 1 oz Silver Krugerrands; however, the mintages were low.  But, since the global pandemic caused bottlenecks and shutdowns, there were a lot of Silver Krugerrands available for wholesalers and dealers.  Thus, we may see the production and sales of Silver Krugerrands in 2020 jump versus 2019.  According to the 2020 World Silver Survey, the South African Mint produced 3.6 million oz of Silver bullion, mostly Silver Krugerrands.  It will be interesting to see their sales figures this year.
I put together this chart showing the four leading online dealers 2020 Silver Krugerrand prices vs. CLOUD HARD ASSETS.  These prices are based on purchasing between 20-99 coins.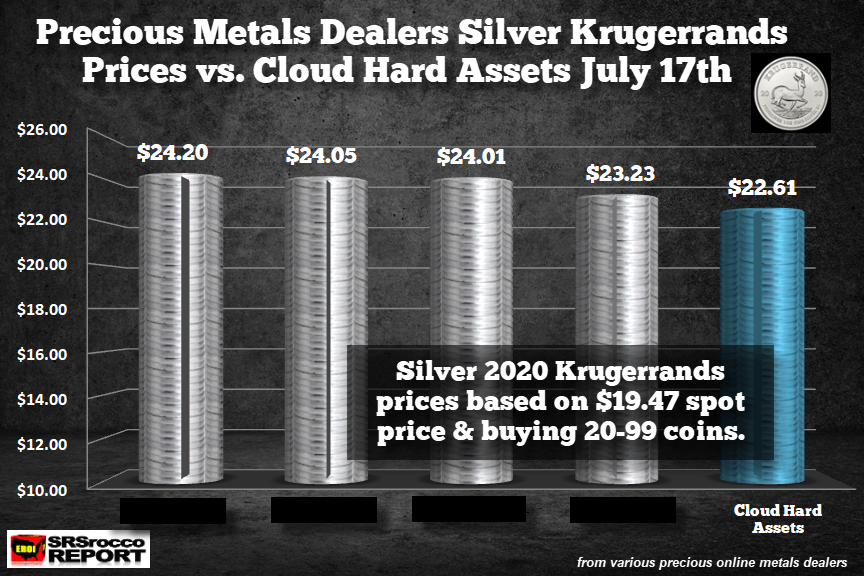 As you can see, CLOUD HARD ASSETS is still offering the best prices for 2020 Silver Krugerrands.  Surprisingly, one of the largest online precious metals dealers in the industry continues to charge the highest premiums on its silver bullion coins.  I find this quite interesting because the notion that high volume sales translate to lower prices doesn't seem to be the business model here.
CLOUD HARD ASSETS is a smaller operation and runs a very tight ship, which is why they try to offer the best deals for investors.
You can contact Tom or Dan at CLOUD HARD ASSETS here:  PRECIOUS METALS INVESTING.
Tom Cloud has been in the precious metals business for 46 years, since 1973.  He has a lot of experience in the precious metals industry and understands the gold and silver market better than most dealers in the industry.
If you are new to the precious metals market and had questions, Tom Cloud and Dan would be happy to answer any questions.
DISCLAIMER:  While Tom offers information about precious metals, you should not take this as investment advice.  You should contact a professional advisor and or do your due diligence before making investment decisions.  
Also, please read the FULL DISCLAIMER on the PRECIOUS METALS INVESTING page.
If you are new to the SRSrocco Report, please consider subscribing to my:  SRSrocco Report Youtube Channel.
DISCLAIMER: SRSrocco Report provides intelligent, well-researched information to those with interest in the economy and investing. Neither SRSrocco Report nor any of its owners, officers, directors, employees, subsidiaries, affiliates, licensors, service and content providers, producers or agents provide financial advisement services. Neither do we work miracles. We provide our content and opinions to readers only so that they may make informed investment decisions. Under no circumstances should you interpret opinions which SRSrocco Report or Steve St. Angelo offers on this or any other website as financial advice.
Check back for new articles and updates at the SRSrocco Report.  You can also follow us on Twitter and Youtube below: