With the newest update just released, Perth Mint silver bullion sales surged in the first three quarters of 2020.  And, for the first time in many years, the Perth Mint sold more than two million oz of silver bullion in a single month this year.  The official silver coins produced by the Perth Mint are the Silver Kangaroo, Koala, and Kookaburras.
Not only are the Perth Mint's silver bullion sales up significantly this year, but gold bullion sales are also up a stunning 160% higher than the same period last year (info from CoinNews.net).  The Perth Mint sold 579,644 oz of gold bullion Jan-Sep this year versus 223,821 oz in 2019.
According to the data published on CoinNews.net, Perth Mint silver bullion sales for Jan-Sep increased to 13.1 million oz compared to 7.8 million oz during the same period last year.  That's a 68% increase year-over-year.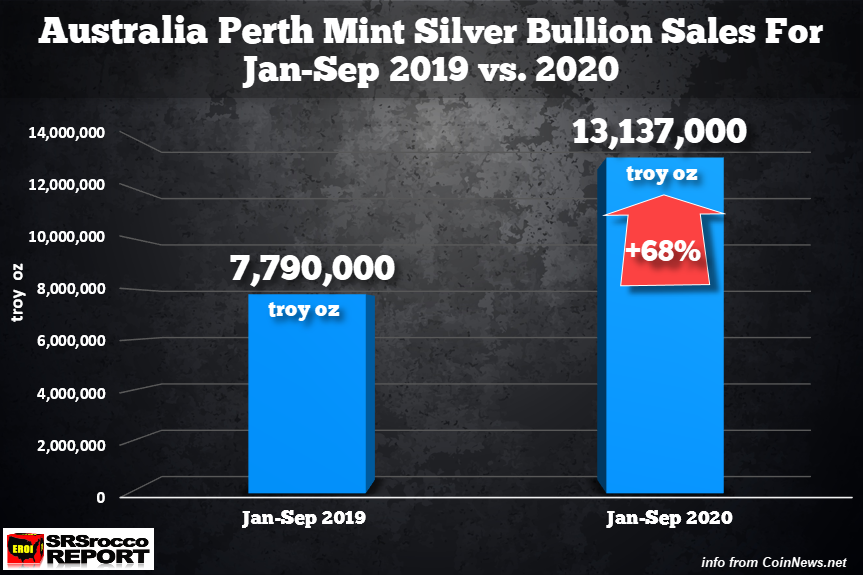 Furthermore, U.S. Mint Silver Eagle sales of 24.5 million oz are up 66% compared to the 14.8 million sold for Full-Year 2019.  So, with two more months remaining in the year, there is a good chance that Silver Eagle sales will reach 28-29 million, nearly double what they were in 2019.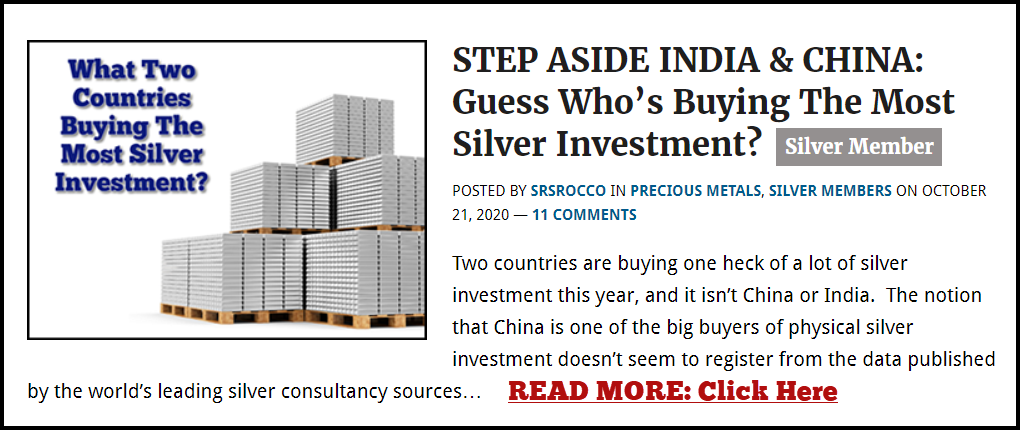 I will update the Royal Canadian Mint's Silver Maple and billion sales in an upcoming article.
With demand for physical silver bullion up significantly this year, along with the global Silver ETFs, if we see another year like this in 2021, watch out for much higher prices.
DISCLAIMER: SRSrocco Report provides intelligent, well-researched information to those with interest in the economy and investing. Neither SRSrocco Report nor any of its owners, officers, directors, employees, subsidiaries, affiliates, licensors, service and content providers, producers or agents provide financial advisement services. Neither do we work miracles. We provide our content and opinions to readers only so that they may make informed investment decisions. Under no circumstances should you interpret opinions which SRSrocco Report or Steve St. Angelo offers on this or any other website as financial advice.
Check back for new articles and updates at the SRSrocco Report.  You can also follow us on Twitter and Youtube below: