Something BIG happened to silver this week.  Due to certain positive indicators, I believe silver is now in a new Bull Market.  It has been seven long years since the silver price was $23.  And with the current momentum, we may see another leg higher this week.
In my newest video update, BIG CHANGE IN SILVER:  New Bull Market, I explain these positive indicators why I see a big change coming silver.  It was important for silver to break above the $18.50 monthly level before it would attempt to hit $21.  Not only did silver reach the next critical $21 level, it also BLEW through it with flying colors.
In the video, I explain this chart and why this Silver Rally is different than the previous ones.  In this chart, it shows the three different periods and how much silver increased in each.  You have to watch the video to find out why the $3.60 move in silver this past week is much different than the past.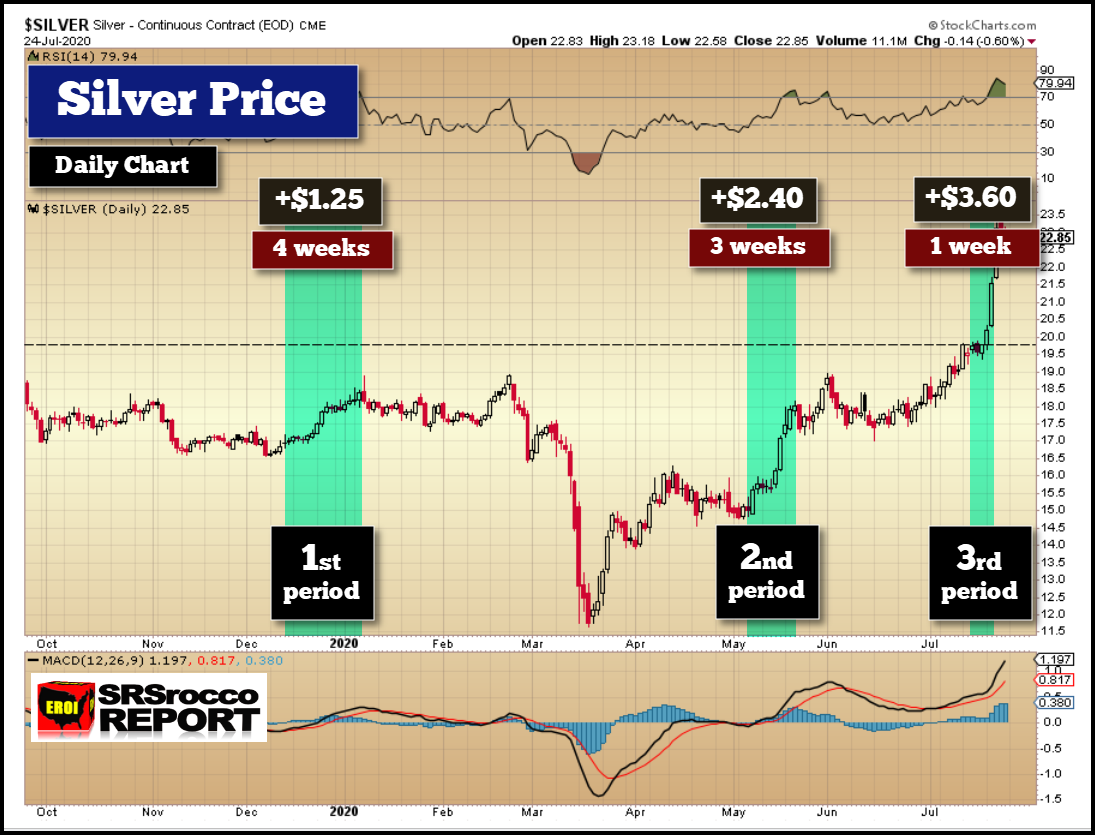 Silver investors have been very patient for the past 7-9 years, finally waiting for some life to come back into the metal.  Silver's breakout above $21 last week is very similar to Gold's Breakout above $1,360 last year.  It seems as if silver has finally joined the ride with gold.  The next few weeks and months will be quite interesting, to say the least.
To find out more about investing in precious metals, check out this page:  PRECIOUS METALS INVESTING.
DISCLAIMER: SRSrocco Report provides intelligent, well-researched information to those with interest in the economy and investing. Neither SRSrocco Report nor any of its owners, officers, directors, employees, subsidiaries, affiliates, licensors, service and content providers, producers or agents provide financial advisement services. Neither do we work miracles. We provide our content and opinions to readers only so that they may make informed investment decisions. Under no circumstances should you interpret opinions which SRSrocco Report or Steve St. Angelo offers on this or any other website as financial advice.
Check back for new articles and updates at the SRSrocco Report.  You can also follow us on Twitter and Youtube below: